DL-Tartaric acid
CAS No.

Chemical Name:

DL-Tartaric acid

Synonyms

Uvic acid;Sal tartar;DL-Tartaric;DL-TARTRATE;DL-Weinsαure;Traubensaure;Traubensαure;Vogesensαure;RACEMIC ACID;TARTARIC ACID

CBNumber:

CB5212873

Molecular Formula:

C4H6O6

Formula Weight:

150.09

MOL File:
DL-Tartaric acid Properties
Melting point:

210-212 °C(lit.)

Boiling point:

191.59°C (rough estimate)
alpha

[α]D20 -0.2~+0.2° (c=20, H2O)
Density

1.788
vapor pressure

<0.1 hPa (20 °C)
refractive index

1.5860 (estimate)
Flash point:

210 °C
storage temp.

Store below +30°C.
solubility

H2O: 0.1 g/mL, clear

form

Liquid
pka

3.03, 4.37(at 25℃)
color

White
PH

1.6 (100g/l, H2O, 25℃)
Water Solubility

soluble
Merck

14,9069
JECFA Number

621
BRN

1725148
Stability:

Stable. Incompatible with bases, oxidizing agents, reducing agents, silver.
InChIKey

FEWJPZIEWOKRBE-UHFFFAOYSA-N
CAS DataBase Reference
FDA UNII
NIST Chemistry Reference
EPA Substance Registry System
SAFETY
Risk and Safety Statements
| Manufacturer | Product number | Product description | CAS number | Packaging | Price | Updated | Buy |
| --- | --- | --- | --- | --- | --- | --- | --- |
| Sigma-Aldrich | T400 | DL-Tartaric acid ReagentPlus , 99% | 133-37-9 | 25g | $20.8 | 2021-03-22 | Buy |
| Sigma-Aldrich | 8.43377 | DL-Tartaric acid for synthesis | 133-37-9 | 100 g | $39.59 | 2021-03-22 | Buy |
| Sigma-Aldrich | 03918 | DL-Tartaric acid anhydrous, for ion chromatography, ≥99.5% (T) | 133-37-9 | 5g-f | $49.6 | 2020-08-18 | Buy |
| Sigma-Aldrich | 03918 | DL-Tartaric acid anhydrous, for ion chromatography, ≥99.5% (T) | 133-37-9 | 5 g | $51.2 | 2021-03-22 | Buy |
| Sigma-Aldrich | 8.43377 | DL-Tartaric acid for synthesis | 133-37-9 | 500 g | $138.75 | 2021-03-22 | Buy |
DL-Tartaric acid Chemical Properties,Uses,Production
DESCRIPTION
Colourless or translucent crystals, or a white crystalline powder; odourless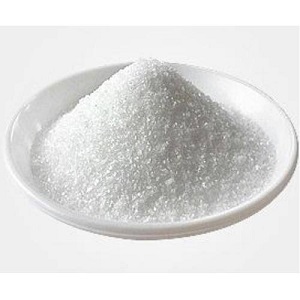 FUNCTIONAL USES
Synergist for antioxidants, acid, emulsifier, sequestrant, flavouring agent
Solubility
Freely soluble in water; sparingly soluble in ethanol
Applications
Tartaric acid and its derivatives have a plethora of uses in the field of pharmaceuticals. It has been used in the production of effervescent salts, in combination with citric acid, in order to improve the taste of oral medications. The potassium antimonyl derivative of the acid known as tartar emetic is included, in small doses, in cough syrup as an expectorant.
Melting range
200 - 206o with decomposition when heated rapidly in a sealed capillarytube
substances
N potassium permanganate while keeping the solution at 20o . The colour of the solution does not disappear within 3 min.
METHOD OF ASSAY
Weigh accurately about 2 g of the dried sample, dissolve it in 40 ml of water, add phenolphthalein TS, and titrate with 1 N sodium hydroxide. Each ml of 1 N sodium hydroxide is equivalent to 75.04 mg of C4H6O6.
Chemical Properties
Tartaric acid, HOOC(CHOH)2COOH, is a water- and alcohol-soluble colorless crystalline solid with an acid taste and a melting temperature of 170°C (338 OF). It is also known as dihydroxy succinic acid. Tartaric acid is used as a chemical intermediate and a sequestrant,as well as in tanning, effervescent beverages, baking powder, ceramics, photography, textile processing,mirror silvering,and metal coloring.
Chemical Properties
Tartaric acid is odorless, but has a characteristic acid taste. Naturally occurring tartaric acid is generally of the L-configuration (based on the absolute configuration of D-glyceric acid). The L-forms of tartrates are dextrorotatory in solution and thus are designated as L(+)-tartrates. For a detailed description on this chemical, refer to Burdock (1997).
Occurrence
d-Tartaric acid occurs in many fruits or other parts of the plant, free or combined with potassium, calcium or magnesium. It is also reported found in raw, lean fish, white wine, red wine and port wine.
Preparation
The tartrates used in commerce are obtained as a by-product of wine manufacture and have the L(+) configuration. Produced from argols or wine lees, which are formed in the manufacture of wine by extracting the potassium acid tartrate, transforming this into the calcium salt and then acidifying with dilute sulfuric acid; also by oxidation of d-glucose with nitric acid. The dl-tartaric acid is obtained by boiling the d-tartaric acid with an aqueous solution of NaOH or by oxidation of fumaric acid. The l- and the meso-tartaric acid are also known, but are less important.
DL-Tartaric acid Preparation Products And Raw materials
Raw materials
Preparation Products
---
---
View Lastest Price from DL-Tartaric acid manufacturers
Image
Release date
Product
Price
Min. Order
Purity
Supply Ability
Manufacturer
2021-10-15
DL-Tartaric Acid
133-37-9
US $0.00 / KG
10g
99%
10 ton
Hanhong Medicine Technology (Hubei) Co., Ltd.
2021-09-07
DL-Tartaric acid
133-37-9
US $10.00 / KG
1KG
Above 99%
20ton/month
Hebei Zhanyao Biotechnology Co. Ltd
2021-09-07
DL-Tartaric acid
133-37-9
US $10.00 / Kg/Drum
1KG
99%
5000tons per month
Wuhan Mulei New Material Technology Co. Ltd
---
DL-Tartaric acid Spectrum
---
133-37-9(DL-Tartaric acid)Related Search:
---
(2S,3S)-2,3-dihydroxybutane-1.4-dioicacid
2,3-dihydroxy-,(R*,R*)-(±)-Butanedioicacid
DL-Tartaric acid 133-37-9 pure 99% food additives Paratartaric acid kf-wang(at)kf-chem.com
2,3-dihydroxybutanedioic acid hydrate
DL-Tartaric acid/2,3-Dihydroxysuccinic acid
Clopidogrel Impurity 45
Tartaric acid kf-wang(at)kf-chem.com
2,3-dihydroxy-,(theta,theta)-(+/-)-butanedioicaci
Butanedioic acid, 2,3-dihydroxy-(R*,R*)-(.+/-.)-
Butanedioic acid, 2,3-dihydroxy-, (R*,R*)-(&plusmn
dl-Tartaric acid anhydrous
DL-Weinsαure
Paratartaric acid
Paratartaric aicd
Racemic tartaric acid
Racemictartaricacid
DL-Tartaric
Butanedioic acid, 2,3-dihydroxy-, (2R,3R)-rel-
D/ DL-Tartaric acid
DL-TARTRATE
DL-2,3-Dihydroxysuccinicacid
Ordinay tartaric acid
DL-TARTARIC ACID ANHYDROUS, FOR ION CHROMATOGRAPHY
DL-TARTARIC ACID SOL.,ELUENT CONCENTRATE FOR IC, 0.1M IN WATER
Dl-TartaricAcid(Synthetic)
DL-TARTARIC ACID extra pure
DL-Tartaric acid, 99.50%
DL-TARTARIC ACID, 99% ANHYDROUS
DL-2,3-Dihydroxybutanedioic acid solution
DL-Tartaric acid solution
DL-tartaric acid, 99.5%
DL-Tartaric acid, 99.5% 100GR
DL-TARTARIC ACID, 99%, ANHYDROUSDL-TARTARIC ACID, 99%, ANHYDROUSDL-TARTARIC ACID, 99%, ANHYDROUSDL-TARTARIC ACID, 99%, ANHYDROUS
racemischeWeinsαure
Resolvable tartaric acid
Sal tartar
Tartaric acid D,L
Traubensaure
Traubensαure
Uvic acid
Vogesensαure
TARTARIC ACID
RACEMIC ACID
DL-TARTARIC ACID
dl-dihydroxysuccinic acid
DL-2,3-DIHYDROXYBUTANEDIOIC ACID
DL-Tartaric acid ReagentPlus(R), 99%
DL-Tartaric ac
DL-Tartaric acid concentrate
DL-Tartaric acid Vetec(TM) reagent grade, 99%
(2R,3R)-rel-2,3-Dihydroxysuccinic acid
TARTARIC ACID (D-, L-, DL-, MESO-)
Tartaric acid, 99.5%
DL-Tartaric Acid &gt
DL-WEINSAEURE 500 G
high purity DL-Tartaric acid
Tartaric Acid Impurity 1 (DL-Tartaric Acid )
DL-TartaricAci