Crystal Violet
CAS No.

Chemical Name:

Crystal Violet

Synonyms

304;vioL;badil;axuris;vianin;viocid;Crysta;atmonil;avermin;gentian

CBNumber:

CB2161846

Molecular Formula:

C25H30ClN3

Formula Weight:

407.99

MOL File:
Crystal Violet Properties
Melting point:

205 °C (dec.) (lit.)
Boiling point:

560.86°C (rough estimate)
Density

1.19 g/cm3 at 20 °C
refractive index

1.6010 (estimate)
Flash point:

40 °C
storage temp.

room temp
solubility

water: soluble50g/L at 27°C
Colour Index

42555
pka

9.4(at 25℃)
form

Solid
color

S. No.: 785
PH Range

0.8(yellow)-2.6(blue/violet)
Odor

Slight characteristic odor
PH

2.5-3.5 (10g/l, H2O, 20℃)
Water Solubility

16 g/L (25 ºC)
λmax

590nm
Merck

14,4395
BRN

4077708
Stability:

Stable. Incompatible with strong oxidizing agents, strong acids. Light-sensitive. Combustible.
Biological Applications

Detecting microorganisms; treating atopic dermatitis,dermatological diseases,28,skin wounds,lesions,hemorrhoids,1,multiple myeloma,Non-Hodgkin's lymphoma,breast cancer,neurodegenerative diseases,onychomycosis; wound dressing
Major Application

Photoresists, lithographic printing plate, printed circuit board, inks, hair dyes, shampoo, drug screening method, bone cement preparation method, microorganisms, hemorrhoids, antifungal, antibacterial, antimalarial agent, dental application
InChIKey

ZXJXZNDDNMQXFV-UHFFFAOYSA-M
CAS DataBase Reference
FDA 21 CFR
EWG's Food Scores
Proposition 65 List
EPA Substance Registry System
SAFETY
Risk and Safety Statements
| Manufacturer | Product number | Product description | CAS number | Packaging | Price | Updated | Buy |
| --- | --- | --- | --- | --- | --- | --- | --- |
| Sigma-Aldrich | HT90132 | Crystal violet solution | 548-62-9 | 8 fL oz | $51.5 | 2021-12-16 | Buy |
| Sigma-Aldrich | 1.01408 | Crystal violet (C.I. 42555) indicatorACS,Reag.PhEur | 548-62-9 | 25 g | $62.25 | 2021-12-16 | Buy |
| Sigma-Aldrich | HT901 | Crystal violet solution | 548-62-9 | 1 L | $91.4 | 2021-12-16 | Buy |
| Sigma-Aldrich | 1.15940 | Crystal violet (C.I. 42555) formicroscopyCertistain? | 548-62-9 | 25 g | $119.32 | 2021-12-16 | Buy |
| Sigma-Aldrich | 1.01408 | Crystal violet (C.I. 42555) indicatorACS,Reag.PhEur | 548-62-9 | 100 g | $220.15 | 2021-12-16 | Buy |
Crystal Violet Chemical Properties,Uses,Production
Physical and Chemical Properties
It is also known as "purple", "methyl violet", "gentian violet." It belongs to triphenylmethane type alkaline dyes. Scientific name:"hexamethyl chloride rose aniline." It appears as dark green powder with metallic luster. It is soluble in water, alcohol and chloroform, but insoluble in ether. Its solubility in water is 1.68% and its solubility in 95% ethanol is 13.87%. However, the solubility of its iodide in two solvents is only 0.035% and 1.78% respectively. Both its aqueous solution and alcohol solution are purple. The structural formula of its chloride is:
Application
It can be used as the dyes of silk, paper and acrylic as well as biological stains. It can be used for manufacturing paints and printing inks. It can also used as an acid-alkaline indicator with coloring range being from pH 0.5 (green) to 2.0 (blue), and developing reagent for colorimetric assays.
It can form a colored chelate with thallium in the hydrobromic acid medium, thus it can be used as thallium sensitivity reagent. It can also be used for the determination of other metal ions such as zinc, antimony, titanium, cadmium, tungsten, gold, mercury and so on. It can also be used as biological stains and non-aqueous titration acid-base indicator. In addition, it can also be used as antiseptic for inhibiting Staphylococcus aureus, Streptococcus and some fungi. Its 1% aqueous solution is commonly known as "purple syrup" for the prevention and treatment of skin and mucous membrane infections. Its enteric-coated tablets can be used as orally anti-pinworm medicine.
Description
Crystal Violet is light sensitive. May react vigorously with strong oxidizing agents. May react exothermically with reducing agents to release gaseous hydrogen.
Description
Anti-infective (topical). Has been used as anthelmintic (Nematodes), as indicator for copper salts.
Chemical Properties
dark green powder or crystals
Chemical Properties
This is a perennial, herbaceous plant native to mountainous areas of Europe; it may reach 0.5 to 1.0 m (2 to 3 ft) in height It has large, cylindrical roots (internally yellow); erect chalice; and fowers with a yellow corolla and peduncles It blooms from July to August The part used is the root of two-year-old plants The color of the rhizomes ranges from dark brown to light tan The color of roots appears to be related to its bitter principle content The dried product and its derivatives of gentian exhibit a very bitter favor.
Occurrence
Gentian is a fl owering perennial found in Europe and Asia.
Uses
Crystal Violet is used as an acid-base indicator, an alcohol denaturant, a biological stain, a textile dye and an indicator for copper salts. It is a component of gram staining in microorganisms and cell lines.
Uses
As dye for wood, silk, paper; in inks; as biological stain.
Preparation
It is manufactured through using N, N-dimethylaniline as raw materials, followed by condensation, addition, chlorination and other reactions. Alternatively, it can be synthesized through the reaction between Michler ketone and N, N-dimethylaniline reaction in the presence of phosphorus oxychloride, followed by azeotropic reaction with hydrochloric acid.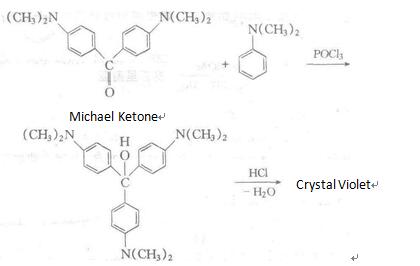 Recrystallization in hot water will generate compound containing nine crystal water molecules.
brand name
Genapax (Key); Gvs (Savage).
Essential oil composition
A number of bitter compounds present in gentian are primarily amarogentin (strongly bitter), gentiopricin (approximately 1.5% in fresh root), swertiamarin and gentiopricroside. The leaves and flowers contain mainly xanthones. Secoiridoids and flavonoids were also detected. In the phase of flowering, leaves are rich with compounds possessing C-glycoside structures while O-glycoside structures accumulate mainly before flowering.
General Description
It belongs to triamino-triphenylmethane synthetic dyes; alkaline. It is an important dye used in bacterial Gram stain. The mixed reagent of crystal violet chloride and iodine is known as gentian violet.
Air & Water Reactions
Insoluble in water.
Fire Hazard
Flash point data for Crystal Violet are not available, however, Crystal Violet is probably combustible.
Biochem/physiol Actions
Crystal violet can be used for DNA visualization in agarose gels. The dye is used only in the presence of high concentrations of DNA. Crystal violet is also used for the staining of bacteria in gram staining technique. It is also used for the staining of plant chromosomes. Crystal Violet also helps in colorimetric measurement of cell viability.
Clinical Use
Gentian violet is variously known as hexamethyl-p-rosanilinechloride, crystal violet, methyl violet, and methylrosanilinechloride. It occurs as a green powder or greenflakes with a metallic sheen. The compound is soluble inwater (1:35) and alcohol (1:10) but insoluble in nonpolar organicsolvents. Gentian violet is available in vaginal suppositoriesfor the treatment of yeast infections. It is also used asa 1% to 3% solution for the treatment of ringworm and yeastinfections. Gentian violet has also been used orally as an anthelminticfor strongyloidiasis (threadworm) and oxyuriasis.
Safety Profile
Poison by ingestion, intravenous, and intraperitoneal routes, An experimental teratogen. Other experimental reproductive effects. A human sktn irritant. Human mutation data reported. Questionable carcinogen with experimental carcinogenic data. When heated to decomposition it emits very toxic fumes of NO, and Cl-.
Properties and Applications
| | |
| --- | --- |
| TEST ITEMS | SPECIFICATION |
| APPEARANCE | DARK GREEN POWDER OR GRANULE |
| SHADE | BLUISH |
| HEAT RESISTANCE | 200 °C min |
| DENSITY | 1.07 g/cm 3 |
| WATER FASTNESS | 4-5 |
| LIGHT FASTNESS | 1-2 |
| BLEACHABILITY (OXIDATIVE) | 4 |
| BLEACHABILITY (REDUCTIVE) | 3 |
| WATER SOLUBILITY AT 25 °C | 16 g/L min |
| WATER INSOLUBLE | 1.0% max |
| MOISTURE | 3.0% max |
| TINTING STRENGTH | 100-105 % |
| WEIGHT METAL TOTAL | 50ppm max |
Purification Methods
Crystallise the dye from water (20mL/g), the crystals being separated from the chilled solution by centrifugation, then wash them with chilled EtOH (solubility is 1g in 10 mL of hot EtOH) and diethyl ether and dry under vacuum. It is soluble in CHCl3 but insoluble in Et2O. The carbinol is precipitated from an aqueous solution of the dye-hydrochloride, using excess NaOH, then dissolve in HCl and recrystallise it from water as the chloride [UV and kinetics: Turgeon & La Mer J Am Chem Soc 74 5988 1952]. The carbinol base has m 195o (needles from EtOH). The diphthalate (blue and turns red in H2O) crystallises from H2O, m 153-154o(dec at 185-187o)[Chamberlain & Dull J Am Chem Soc 50 3089 1928]. [Beilstein 13 H 233, 13 IV 2284.]
Crystal Violet Preparation Products And Raw materials
Raw materials
Preparation Products
---
---
View Lastest Price from Crystal Violet manufacturers
Image
Release date
Product
Price
Min. Order
Purity
Supply Ability
Manufacturer
2021-09-29
Crystal Violet
548-62-9
US $1.00 / KG
1KG
96.0%-100.5%,USP40
5tons/month
WUHAN FORTUNA CHEMICAL CO., LTD
2021-07-13
Crystal Violet
548-62-9
US $15.00-10.00 / KG
1KG
99%+ HPLC
Monthly supply of 1 ton
Zhuozhou Wenxi import and Export Co., Ltd
2021-07-10
Crystal Violet
548-62-9
US $15.00-10.00 / KG
1KG
99%+ HPLC
Monthly supply of 1 ton
Zhuozhou Wenxi import and Export Co., Ltd
---
---
548-62-9(Crystal Violet)Related Search:
Cupric acetylacetonate
Aluminum acetylacetonate
RHOD 2 TRIAMMONIUM SALT
TRIS(2,2,6,6-TETRAMETHYL-3,5-HEPTANEDIONATO)DYSPROSIUM(III)
Tosylmethyl isocyanide
COBALT ETHYLENE DIAMINE CHLORIDE
TERT-BUTYL ISOCYANIDE
METHYL ISOCYANOACETATE
Ethyl isocyanoacetate
1-[2-AMINO-5-(3-DIMETHYLAMINO-6-DIMETHYL-AMMONIO-9-XANTHENYL)PHENOXY]-2-(2-AMINO-5-METHYLPHENOXY)-ETHANE-N,N,N',N'-TETRAACETIC ACID CHLORIDE
2,4-PENTANEDIONE, SILVER DERIVATIVE
COBALT(II) ACETYLACETONATE
DICHLORO(ETHYLENEDIAMINE)PLATINUM(II)
Tris(2,4-pentanedionato)chroMiuM(III)
Ferric acetylacetonate
TRIS(2,2,6,6-TETRAMETHYL-3,5-HEPTANEDIONATO)EUROPIUM(III)
N-BUTYLISOCYANIDE
VIOLET
---
PYOKTANIN BLUE
S NO 785
VIOLET 7B
BASIC VIOLET 3
BRILLIANT VIOLET
CALCOZINE VIOLET 6BN
GRAM STAIN NO 1
GRAM STAIN
GENTIAN VIOLET
GENTIAN VIOLET 10B
GENTIAN VIOLET 2
GENTIAN VIOLET 3
GENTIAN VIOLET B
GENTIAN VIOLET, GRAMS
GENTIAN VIOLET, HUCKER
GENTIAN VIOLET, HUCKER'S
HEXAMETHYLENEPARAROSANILINE CHLORIDE
HEXAMETHYL VIOLET
HEXAMETHYL-P-ROSANILINIUM
HEXAMETHYLPARAROSANILINE CHLORIDE
HEXAMETHYLPARAROSANILINE HCL
LABOTEST-BB LT00454782
CI NO 42555
CI NO 42555/42535
CI 42555
CRYSTAL VIOLET BASE
CRYSTAL (GENTIAN) VIOLET
METHYL VIOLET 10B
METHYL VIOLET WATER AND ALCOHOL SOLUBLE
METHYL VIOLET B
METHYLROSANILINE
METHYLROSANILINE CHLORIDE
12416violet
MethylViolet6BC.I.42555
CrystalViolet0.5%AqueousSolution
GentionVioletAlchoholicStainingSolution
GentianViolet(Aqueous)
CrystalViolet5%AlcoholicSolution
GentianVioletGr
CrystalViolet(GentianViolet)
CRYSTAL VIOLET FOR MICROSCOPY (C.I. No 42555 )
Gentianviolet,CI42555:1/42535
Gentianvioletformicrobiology,CI42555:1/42535
DifcoBBL
Gentianviolet/GramCrystalViolet,4x250ml
CrystalViolet,ACS,90+%
BASIC VIOLET 3 (C.I. 42555)
GENTIAN VIOLET ANHYDROUS
Crystal Violet, certified, pure
Crystal Violet, high purity biological stain, pure
Crystal Violet, indicator, pure
CRYSTAL VIOLET REAGENT (ACS)
Methanaminium, N-4-bis4-(dimethylamino)phenylmethylene-2,5-cyclohexadien-1-ylidene-N-methyl-, chloride
crystal violet, acs
gentian violet solution
GNTIANVIOLET
HEXAMETHYLPARAROSANILINE
[4-[4,4'-Bis(dimethylamino)benzhydrylidene]cyclohexa-2,5-dien-1-ylidene]dimethylammonium chloride