Dimethyl phosphite
CAS No.

Chemical Name:

Dimethyl phosphite

Synonyms

(CH3O)2PHO;NCI-C54773;Dimethylfosfit;Dimethylfosfonat;Dimethylphosphit;DIMETHYL PHOSPHITE;Dimethyl phosphonat;DIMETHYL PHOSPHONATE;dimethylacidphosphite;Dimethylphosphite,98+%

CBNumber:

CB9248221

Molecular Formula:

C2H7O3P

Formula Weight:

110.05

MOL File:
Dimethyl phosphite Properties
Boiling point:

170-171 °C(lit.)

Density

1.2 g/mL at 25 °C(lit.)

refractive index

n20/D 1.402(lit.)

Flash point:

71 °C

form

Colorless liquid with a mild odor
Water Solubility

Soluble in water.
Sensitive

Moisture Sensitive
BRN

1697490
Stability:

Stable. Moisture sensitive. Incompatible with water, strong oxidizing agents, acid chlorides, strong bases.
CAS DataBase Reference
FDA UNII
IARC

3 (Vol. 48, 71) 1999
NIST Chemistry Reference
EPA Substance Registry System
SAFETY
Risk and Safety Statements
| Manufacturer | Product number | Product description | CAS number | Packaging | Price | Updated | Buy |
| --- | --- | --- | --- | --- | --- | --- | --- |
| Sigma-Aldrich | D178454 | Dimethyl phosphite 98% | 868-85-9 | 25g | $42.1 | 2021-03-22 | Buy |
| Sigma-Aldrich | D178454 | Dimethyl phosphite 98% | 868-85-9 | 500g | $61.1 | 2021-03-22 | Buy |
Dimethyl phosphite Chemical Properties,Uses,Production
Chemical Properties
colourless liquid
Uses
Dimethyl Phosphite(DMP)is used as a reagent in the synthesis of 4-(thiophen-2-ylmethyl)-2H-phthalazin-1-ones as potent PARP-1 inhibitors.
It is also used as a reagent in the synthesis of estafiatin phosphonate derivatives which exhibit antibacterial and antifungal activity.
Dimethyl Phosphite is a degradation product of the pesticides trichlorphon and malathion and may be released into the envionment following their application. It is a contaminant (approxiately 2%) in the chemical intermediate triethyl phosphite, which hydrolyses readily to dimethyl hydrogen phosphite in the presence of moist air or water.
Dimethyl Phosphite is used as a flame retardant on Nylon 6 fibres and, in combination with guanidine and formaldehyde, to impart flame and crease resistance to cotton textiles. The compound is also used to increase fire resistance to cellulosic textiles, acrolein-grafted polyamide fibres and y-irdiated polyethylene.
lt is used as a lubricant additive, as a chemical intermediate in the production of organophosphorous pesticides and as an adhesive.
Dimethyl Phosphite has also been used as a stabilizer in oil and plaster and, in combination with pyroctechol, as a corrosion inhibitor on steel.
Uses
As a flame retardant on Nylon 6 fibers; intermediate in the production of pesticides and herbicides; as a stabilizer in oil and plaster; an additive to lubricants
Application
DMP is a basic chemical which is used industrially as an intermediate. Because of its reactivity
DMP participates in a large number of chemical reactions:
Addition to oxo compounds
Addition to oxo compounds with subsequent condensation e.g. with amines
Oxidation with oxygen or chlorine
Addition to alkenes
Due to these properties DMP is used as an intermediate for the manufacturing of
water treatment chemicals e.g. corrosion inhibitors for cooling-water circuits (about 50 %)
pesticides and pharmaceuticals (about 20 %)
flame retardants and other specialities (about 15 %)
textile finishing products (about 15 %)
Synthesis Reference(s)
Canadian Journal of Chemistry, 34, p. 1819, 1956
DOI:
10.1139/v56-235
Health Hazard
Dimethyl Phosphite (DMP) is rapidly absorbed via the oral and dermal routes. The main metabolic pathway in rodents is demethylation to monomethyl hydrogen phosphite (MMP) and further oxidation to CO2. DMP was mainly eliminated via urine and expired air. Over the studied dose range between 10 and 200 mg/kg bw and 5 x 200 mg/kg bw, respectively, only little evidence of bioaccumulation or saturation of absorption and elimination was observed. The only difference in studied toxicokinetics between rats and mice was the more rapid metabolism and elimination in mice.
An inhalation LC50 value is not available, but an exposure of 7100 mg/m³ (concentration estimated based on air flow and net loss of material) over 6 hours was not lethal for rats, mice and guinea pigs. Clinical signs were observed in mice only, and included occasionally laboured respiration after approximately 2 hours of exposure and ptosis after 5 hours. The acute dermal LD50 was 681 mg/kg bw (rabbits). Signs of intoxication were depression, ptosis, labored respiration, ataxia and placidity. The acute oral LD50 values were: 3283 mg/kg bw for male rats, 3040 mg/kg bw for female rats, 2815 mg/kg bw for male mice, and between 2150 and 3160 mg/kg bw for female mice. Clinical signs were inactivity, weakness, prostration and shallow breathing at doses near to or exceeding the LD50 values. White opaque eyes were seen in male mice.
Dimethyl Phosphite is irritating to the skin and eyes of rabbits. After prolonged or repeated exposures moderate to severe irritation of skin and mucosa was observed in rats. No sensitisation studies are available.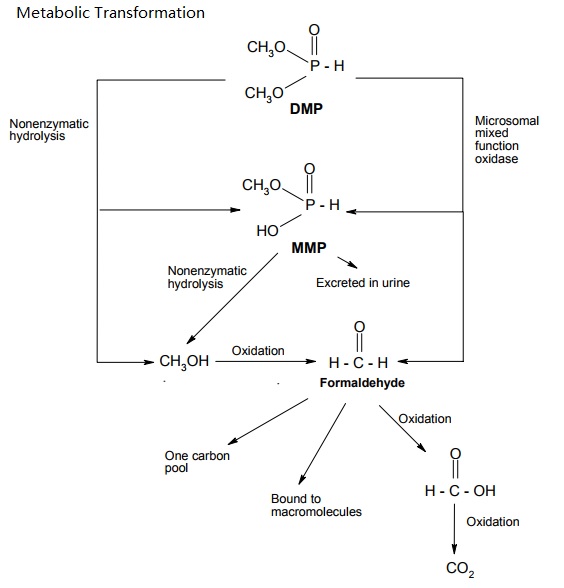 Proposed metabolic pathways of DMP in rats and mice (Nomeir and Matthews, 1997).
Safety Profile
Suspected carcinogen with experimental carcinogenic data. Moderately toxic by ingestion and skin contact. A skin and eye irritant. Mutation data reported. When heated to decomposition it emits toxic fumes of POx
Carcinogenicity
Dimethyl hydrogen phosphite was not mutagenic to several strains of Salmonella typhimurium, but it did cause sister chromatid exchanges and chromosomal aberrations in the Chinese hamster CHO line.
An ACGIH threshold limit value (TLV) has not been established for dimethyl hydrogen phosphite.
Dimethyl phosphite Preparation Products And Raw materials
Raw materials
Preparation Products
---
---
View Lastest Price from Dimethyl phosphite manufacturers
Image
Release date
Product
Price
Min. Order
Purity
Supply Ability
Manufacturer
2021-10-15
Dimethyl phosphite
868-85-9
US $13.00 / ml
100ml
99%
500ton/Month
Hebei Yirun Sega Biological Technology Co. Ltd
2021-10-14
Dimethyl phosphite
868-85-9
US $1.20 / ml
100ml
99%
5ton/Month
Hebei Yirun Sega Biological Technology Co. Ltd
2021-08-26
Dimethyl phosphite
868-85-9
US $9.10 / KG
1KG
99%
10 ton
Hebei Crovell Biotech Co Ltd
---
Dimethyl phosphite Spectrum
---
868-85-9(Dimethyl phosphite)Related Search:
---
(CH3O)2PHO
bis(hydroxymethyl)phosphineoxide
Dimethoxyphosphine oxide
dimethoxyphosphineoxide
Dimethyl acid phosphite
Dimethyl ester of phosphonic acid
dimethylacidphosphite
Dimethylester kyseliny fosforite
DIMETHYL PHOSPHITE
DIMETHYL PHOSPHONATE
DIMETHYL HYDROGEN PHOSPHITE
methylphosphonate((meo)2hpo)
NCI-C54773
O,O-Dimethyl phosphonate
PHOSPHONIC ACID DIMETHYL ESTER
PHOSPHOROUS ACID DIMETHYL ESTER
DIMETHYL PHOSPHITE 99% (GC)
Dimethylphosphite,98+%
DIMETHYLHYDROGENPHOSPHIT
Phosphonsuredimethylester
Phosphonic acid dimethyl
Phosphorous acid hydrogen dimethyl ester
O,O-dimethyl phosphite
dimethylesterkyselinifosforite(czech)
dimethylesterkyselinyfosforite
Dimethylfosfit
Dimethylfosfonat
dimethylhydrogenphosphonate
Dimethylphosphit
dimethylphosphorousacid
Hydrogen dimethyl phosphite
hydrogendimethylphosphite
Methyl phosphonate ((MeO)2HPO)
Phosphonic Acid Dimethyl Ester Dimethyl Phosphonate Phosphorous Acid Dimethyl Ester
Dimethyl phosphite- methoxyl--D6
methoxyphosphonoyloxymethane
Dimethyl phosphonate/Dimethyl phosphite
Olaparib Impurity 16 (Dimethyl phosphite)
Dimethyl phosphonat
868-85-9
868-65-9
CH3O2POH
Phosphorus Compounds
Organic Phosphates/Phosphites
Organic Building Blocks
Building Blocks
PETRO CATALYST
Building Blocks
Chemical Synthesis
Organic Building Blocks
Organic Phosphates/Phosphites
Phosphorus Compounds
Pharmaceutical Intermediates
Organic Building Blocks
Organic Phosphates/Phosphites
Phosphorus Compounds